Here at WPSutra, my aim is to educate users about the WordPress platform and help them to get started with it. I have already shared a complete starter's guide for newbies.
Now, adding more to it, videos are the best way to learn something new, and that's where these Free WordPress Video tutorials will help you. We always recommend Bluehost as one of the top hosting company for WordPress, and you can judge the quality and dedication of this WordPress hosting company with the webinars and video tutorials they have been doing for WordPress.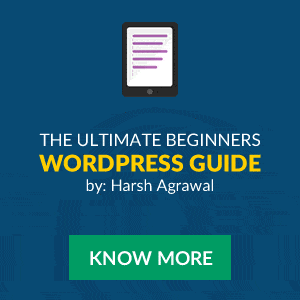 If you are just starting with WordPress platform, these free video tutorials are the perfect place to start and in total there are 7 videos as of now, and as soon as new videos are uploaded, I will update this article. You can subscribe to my Email newsletter for quick updates.
Grab Unlimited Bluehost Hosting for $4.95/month
Before I share these free WordPress videos; I recommend you to go through following links and understand WordPress better:
Free WordPress Video Tutorials for Beginners:
How to use WordPress:
This is the first video of this series, where you can learn what you can do with WordPress and a brief introduction to WordPress.
Walkthrough of WordPress dashboard:
As a first-timer, you should watch this video learn about the WordPress dashboard. How does it work & what all you can do from the backend?
Installing WordPress on Bluehost:
I have already shared a video earlier on Youtube and here is official Video from Bluehost company:
Changing WordPress Theme and design:
So, you have your WordPress blog ready, and now the next step is to give a branded or new look to your Blog. In this free WordPress tutorial, you will learn how you can change the theme of your blog:
Create Pages in WordPress:
There are many important pages that every blog should have. For example, about- contact-privacy-TOS are few of pages, which are essential for any Website or Blog. In this WordPress video guide, you will be learning how to add a new page in WordPress:
Static page as Blog homepage:
One of the reasons why I recommend WordPress to create your Website is coz of SEO advantage, and you can easily edit content without needing to play with codes. In WordPress, we have posts and pages to structure our site, and in this video, you will learn how to use a Page as a homepage and also how to write a blog post in WordPress. Along with it, you will learn how to embed a Youtube video in WordPress and much more.
How to upload Images and Galleries to your WordPress Blog:
An image speaks a thousand words, and this is what we are going to learn in this video tutorial. You will be learning, how to add an image or images, files in WordPress.
Uploading a resume to WordPress:
So, you wish to use your WordPress blog as a platform to get a new job. In this video, you will learn how to add a resume to your blog using Google DOC embedder plugin.
Final thoughts: WordPress Video Tutorials
When I started Blogging on WordPress in 2008, it's random WordPress Video tutorials, which helped me to get started. WordPress is one of the easiest platforms you can ever come across and with these seven videos, your life will be easy easier.
Here are two additional videos, from my Youtube channel, which will help you to learn more about WordPress:
So enjoy these free WordPress videos, and don't forget to share it on Facebook and Twitter.