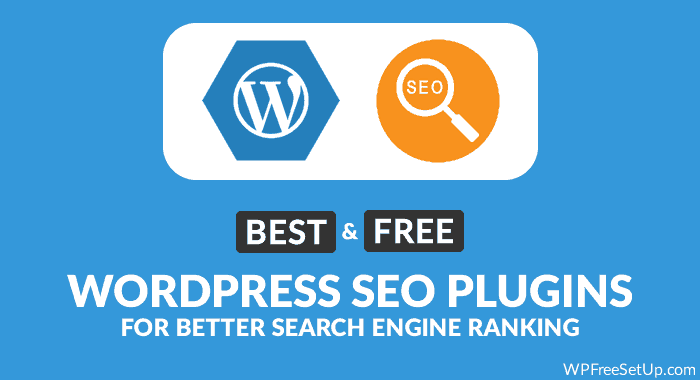 WordPress is undoubtedly one of the best blogging platforms, and with the help of plugins, you could add unlimited functionalities and features.
Today, I will be sharing a few best WordPress SEO plugins that are completely free and will help you to optimize your blog for search engines. I will also share some of the alternatives and will suggest which SEO plugin you should stick to.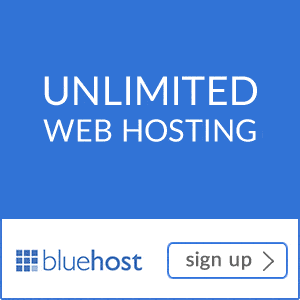 One major problem with SEO plugins are, there are so many options available, and it creates confusion for newbies.
Whenever you install a new plugin, make sure you read the complete description and use only which you need to use and make sense.
I won't recommend you to install all the plugins listed below until you know how to use them properly.
In this best WordPress SEO plugins list, I will be recommending few of the best and free plugins that are available from official plugin repo.
In upcoming articles, I will do a detailed write-up on how to use these below-mentioned SEO plugins. So let's go on with our list here.
Best WordPress SEO plugins to improve Search engine ranking:
RankMath
Easy Table of Contents
You must have heard that WordPress is SEO friendly, and it's not completely true. But, when you compare WordPress SEO with many other existing platforms, WordPress is far superior regarding search engine optimized platform, and with the help of many plugins, you could take the complete SEO of your WordPress blog to next level.
Before you install these plugins, understand how SEO works. Any website including your WordPress blog needs to be SEO optimized on 3 level:
On page SEO: This is where you will ensure your post is optimized for the particular keyword. You take care of Keyword placement, Image Alt tag, heading tags, Keyword density & LSI Keywords & few more things.
On-Site SEO: This consists of overall indexing & crawling of your site. You submit your sitemap to Webmaster Tools, configure your robots.txt file & other things that help search engine to crawl better & understand your site. It's important to know that your website speed is also a ranking factor
Off-site SEO: This consists of generating backlinks to your blog and getting more social media sharing. Social Media part falls into both On-Site & off-site SEO.
More or less, you need to ensure that your WordPress blog takes care of all these three parts & you will notice a great improvement in traffic to your blog. The plugins that I have listed below will let you optimize your blog in first two parameters of good SEO. So, let's get on with this exclusive list of best SEO plugins for WordPress.
1. WordPress SEO by Yoast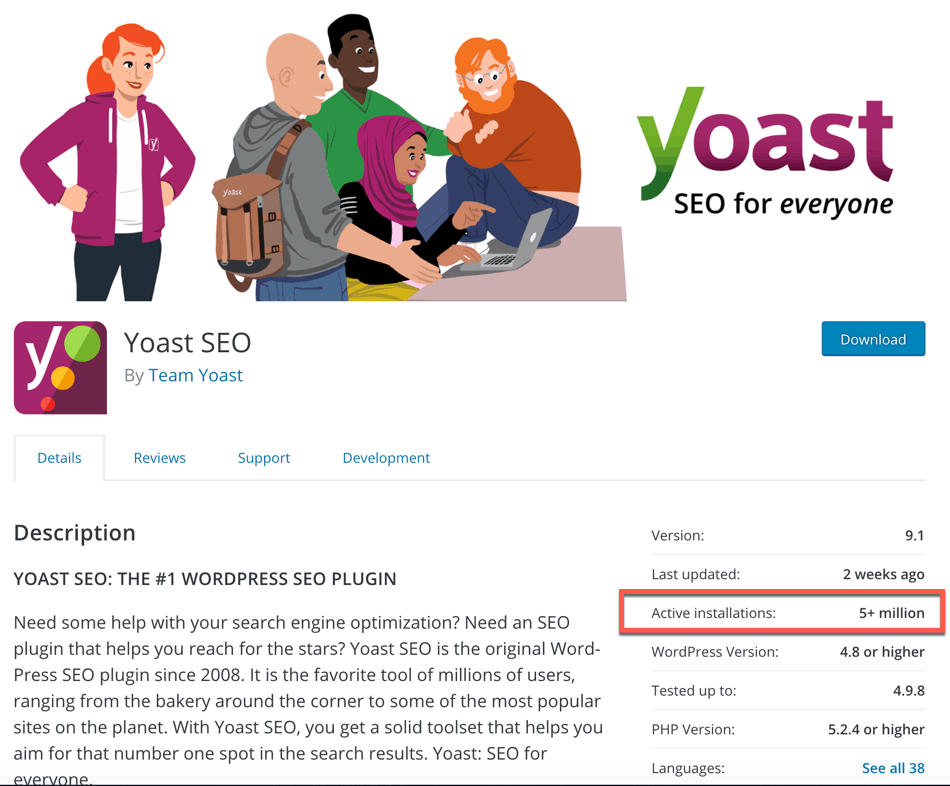 Yoast SEO is so far one of the best SEO plugins for WordPress, as it offers a great deal of control of your blog SEO. You might have heard of many plugins like All in one SEO, headspace, and many others, but SEO by Yoast is far better than any of the plugin that you heard.
Yoast is one of the well-known WordPress ninjas, and his work with this free plugin is incredible. You can control the overall no indexing/do indexing of your WordPress blog, and you can optimize the single post for search engines using this plugin.
This is a complete SEO suite for WordPress. Starting from on-site SEO, this plugin also lets you optimize your WordPress posts for specific keywords. You can also generate a sitemap using Yoast SEO & submit it to Google search console or Bing webmaster tool.
Configuring WordPress SEO by Yoast is quite technical, and a newbie might find it little difficult to understand every setting offered by this plugin.
I recommend you read this guide, which will help you to configure this plugin without any issues.
2. SEMRUSH SEO Writing Assistant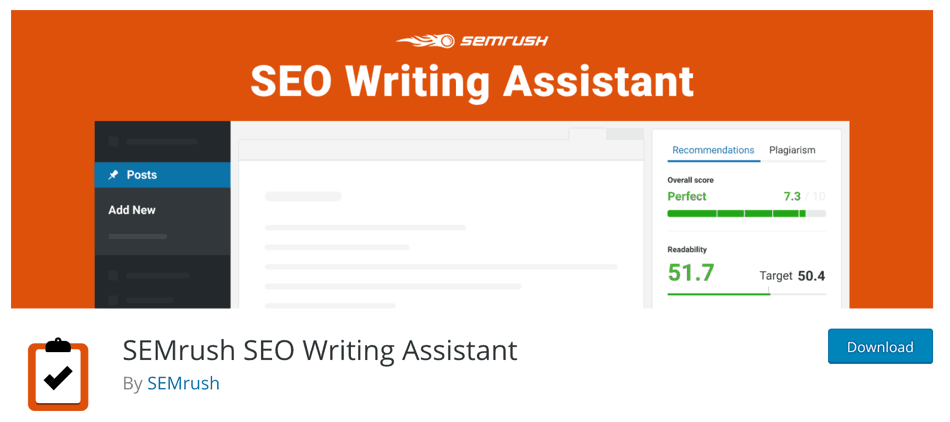 SEMRUSH writing assistant helps in improving the On-page SEO score for your target keyword. This plugin adds a box in WordPress post editor section and helps you optimize your target keyword.
This one works way different than Yoast SEO, as it scans the top 10 results for your target keyword and based on their ranking, it suggest a few things like LSI words to use, Target words and so on. This is an advanced plugin and for those who understand the effect of SEO on website traffic, we should use this. You can use this plugin along with any other SEO plugins for WordPress.
However, this plugin requires you to have an active license of SEMRUSH which you can grab from the below link.
Download Plugin | Get 14 days free trial of SEMRUSH
3. WP-Rocket

You must be wondering why a plugin that speeds up your blog is doing in a list of WordPress SEO plugins.
The reason is: Google considers loading time of your page as a ranking factor.
The plugin offers cache features at many levels (Page cache, browser cache, database cache), and you can quickly integrate it with any CDN network you use.
The configuration is fast and swift. Once you have configured the plugin properly, you could see a drastic improvement in your WordPress loading speed.
4. WP Broken Link Checker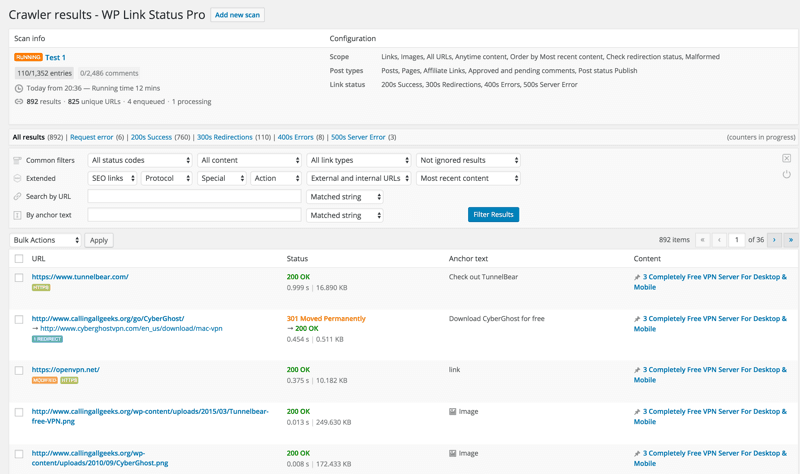 Dead links are bad for search engines, and this broken link checker plugin helps you to identify all dead links from your blog.
It might not be very useful for a newly installed WordPress blog, but if you have an existing old WordPress blog, this plugin will simplify the process of identifying broken links and fix them with one click.
5. SEO friendly images
Do you know you could get decent traffic from Image-based search engines? Search engines like Google and Bing rely on Alt text in images to identify and rank an image.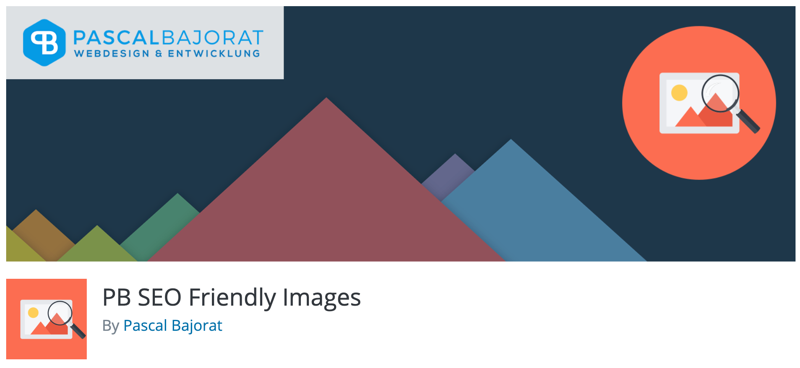 A good practice is to use a meaningful name for uploading image. For example, even if I add a WordPress logo image in this post, I have renamed the image as WordPress-SEO-Plugin-jpeg. SEO friendly image plugin converts your image name as Alt text and thus put your image SEO on automation.
You can also use ShortPixel along with this to compress the size of the image, and again it will help in faster loading of your WordPress blog.
6. Rank Math: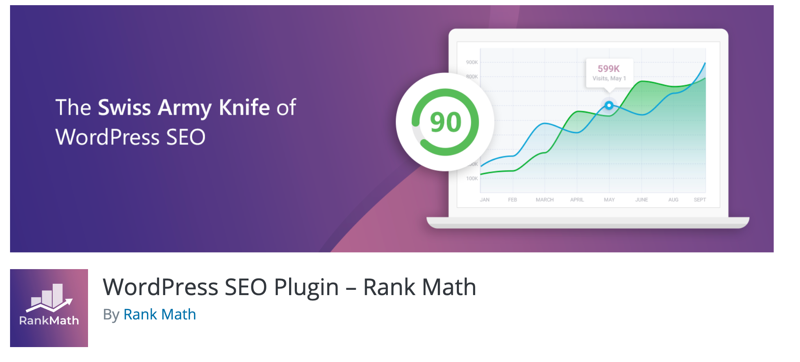 Rank Math is a new entrant in our WordPress SEO plugins collection. It is an alternative to the popular Yoast SEO plugin. Rank math brings all the features of Yoast Premium for free and also have the ability to import features from your existing SEO plugin.
The plugin also enables Schema and provides an on-page SEO score to help you optimize content. There is an ongoing debate between "Rank Math vs. Yoast SEO" out there in the community and those who don't mind experimenting are moving to Rankmath. This is surely one SEO plugin that you should keep your eye in 2023.
7. Easy Table of Contents: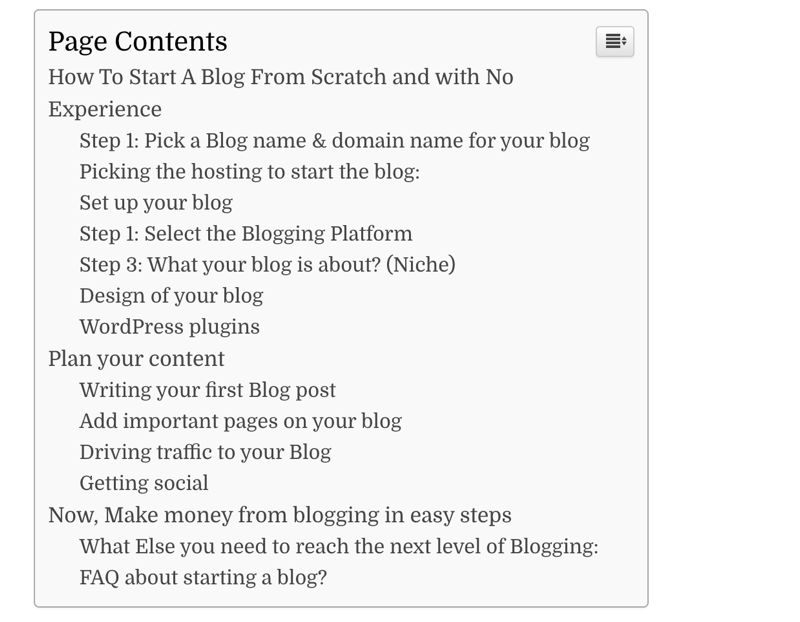 This is one underdog SEO plugin that every content-based WordPress blog or website should use. The easy table of content helps you automatically add a table of content.
Apart from helping your readers to navigate faster, it also helps you win jump links in Google search.
Download Easy Table of contents plugin
These are many of few SEO plugins for WordPress, which will improve your overall WordPress blog SEO.
Many premium SEO plugins are also available, but for now, let's install these free once, and if you face any issues installing or configuring them, feel free to ask me via comments.
If you wish to add few more WordPress SEO plugins, do let me know via comments.
Here are more articles for you to read next: