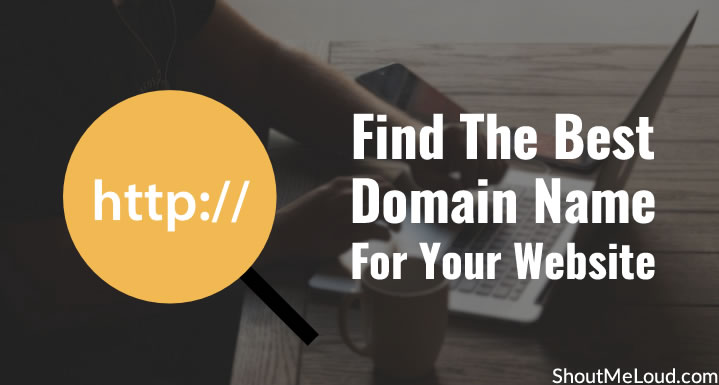 So you are planning to become an online marketer or blogger.
Let's check what you will need:
A CMS like WordPress, Drupal, or Joomla.
A website.
A web host.
A domain name.
In this article, I will share a few things you need to consider before choosing a domain name.
A bad domain name can hurt your blog in the long run.
One of the most common mistakes people make is using their personal name instead of a brand (HarshAgrawal.com, Rajnish.com, etc.). While this can work, it is not recommended.
5 Tips To Choose The Best Domain Name:
Firstly, most of the great names are already taken. Something like blog.comwill not only be unavailable, but if you want to purchase that kind of name, expect to pay hundreds of thousands of dollars.
Another thing: Try to go for a .com name; it's good for branding and for SEO. If you're targeting only Indian traffic, for example, then getting a .in name is wise. But if you're trying to be global, you will want a "generic/global top-level domain" (gTLD). The most common gTLD, and therefore easiest to remember, is .com.
But besides showing up in searches, domain names need to have good branding capabilities. For example, ShoutMeLoud.com is a good domain name because it's easy to remember and globally valuable.
Here are other things you need to consider:
1. Be Unique
I would strongly urge you to be creative when securing a domain name.
Instead of choosing something generic, try to create something unique. For example, if you're starting a new tech blog, don't go for something like "techblog.com" or "techtips.com". Not only won't these names be available (unless you want to pay a lot of money- see above), they are really boring.
Find a related keyword and create a brand.
Example names for a tech blog:
ShoutMeTech.com
CallingAllGeeks.com
Use a tool like NameStation or LeanDomainSearch to get suggestions based around keywords.
Takeaway: Choose a unique name.
Also, make sure you use Namechk to see if your new target domain name is available on all major social media sites.
2. Easy To Write
The name of the website must be easy to write. This means it must not contain "strange characters".
When your name is easy to write, people will not have any trouble when typing it into their browser. This will limit the possibility of them winding up on a different site.
If your website is written in English, make sure the domain doesn't have Spanish or Arabic characters.
Also, be sure to watch out for homophones (words that sound the same but are spelled differently). It might be easy for your visitors to mistakenly type the wrong thing.
Example:
NewThings vs. KnewThings
YourSpace vs. YoreSpace vs. YoureSpace
Similarly, if you want to make up a name, you need to be careful. If you want to go with "kloth.net", most people will hear that and type "cloth.net". Or maybe you want to get "high-n-dry.com" but most people will type "highanddry.com".
Takeaway: Make sure there are no possible ways a user can incorrectly spell the name.
3. Easy To Pronounce
You also need to make sure people can talk about your name with ease. They shouldn't have to struggle when telling their friends about your site.
This is one of the reasons that choosing a personal name is not always the best idea. Many of our personal names aren't as easy to pronounce as a brand.
Example:
"John Stith Pemberton's Soda" vs. "Coca-Cola"
You shouldn't have to struggle when pronouncing your brand.
Hard to pronounce made up words are not good either. "Liffgehdfdx.com" is not a good domain name.
Here is the supposed "longest domain in the world" (see #4 below):
It's apparently a village in Wales, UK, and not one you'd like to have to type into your browser, let alone say. Imagine a friend telling you to go to that website. That's why they have also secured "LongestInTheWorld.com", which is obviously much easier to type, say, and remember.
You can consult this list of hard to pronounce English words when choosing a good brand name.
Here's a good tip: Does it pass the phone test?
Can you tell someone the name once over the phone and have them correctly type it into their browser? If yes, then it's a good name. If no, then you may need to reconsider.
Takeaway: Always choose a name that is easy to say.
4. Avoid Long Names
Let's say I'm starting a blog about "anti-dystopian factions for the modern age", the domain name "anti-dystopianfactionsforthemodernage.com" would be really hard to remember, and hence, would not make a good brand.
No one would want to type that into a browser
Never choose a really long domain for your website.
People will have a hard time remembering:
"TipsAboutCaringForDogsHorsesCatsAndOtherPets.com"
"PoetryTipsForWritersUnder30WhoAreStrugglingWithAnxiety.com"
In general, the shorter it is, the easier it is to remember.
Takeaway: Make it as short as possible.
5. Context
The domain name (and its extension) should reflect the market.
If Mike is running an e-commerce site about sunglasses, he shouldn't get the domain "MikeSellsBathingSuits.com".
Another important point to make is the extension should match the market. If you only sell products in Italy, you should consider registering a .it name. This way, you help search engines target only those customers in Italy, thereby increasing your SEO for your niche.
If you're selling products internationally, then a .com, .org, .net, .biz, or any other gTLD will be better for your SEO because you will be trying to reach a more global audience.
Takeaway: Make sure the domain (including the extension) matches the context.
Steps For Choosing The Right Domain Name
So take out a piece of paper (or a Word doc) and make a list of all the great domain names you have. See if they pass through all of the five points above.
At the same time, you should be checking that these domains are available to register.
In case your domain is not available, here are some tips:
Add the location of the market (e.g. www.BloggingUK.com).
Add the intended audience (e.g. www.NewbieBloggingUK.com).
Create an acronym (e.g. Newbie Blogging UK -> NBLUK.com).
If you're willing to spend some money for a "premium" domain, you can also try looking on a domain marketplace like Sedo.
When searching for your new website name, keep in mind these five points. In general, you want your audience to have no trouble finding your online web space. Be sure to make it easy for them.