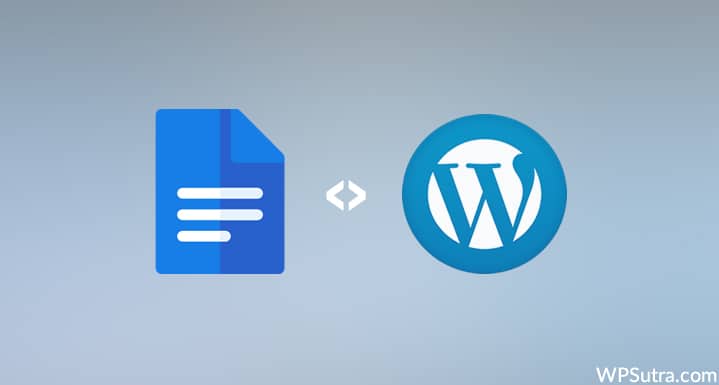 Do you want to add Google Docs directly into your WordPress blog posts or pages?
If your answer is yes, or you're not sure, read on as today you are going to discover another cool thing you can do with WordPress.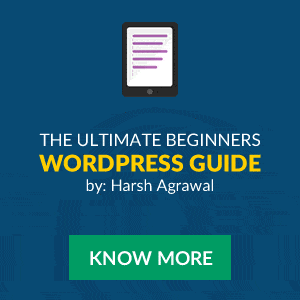 Whether you have a blog on WordPress.com or on the self-hosted WordPress platform (i.e. WordPress.org), embedding Google Documents to WordPress pages and posts is only a few clicks away.
If you don't have a WordPress blog/website yet, you can follow the post below and create one:
Watch complete video here:
First I'll show you how to embed a Google Doc to WordPress.org (with the help of a plugin), and then to WordPress.com.
Let's get started…
Embedding Google Docs To WordPress.org
NOTE: We'll be uploading a Google Docs PDF to WordPress.org, but this process works for any Google Docs file.
You can easily embed any Google Docs file to your self-hosted WordPress website with the Google Doc Embedder WordPress plugin.
Steps To Add The Google Doc Embedder WP Plugin
First, you will need to install the plugin to your WordPress dashboard.
Go to your WordPress dashboard >> Plugins >> Add New
Type "Google Doc Embedder" in the search box.
Once you do that, just install and activate the plugin.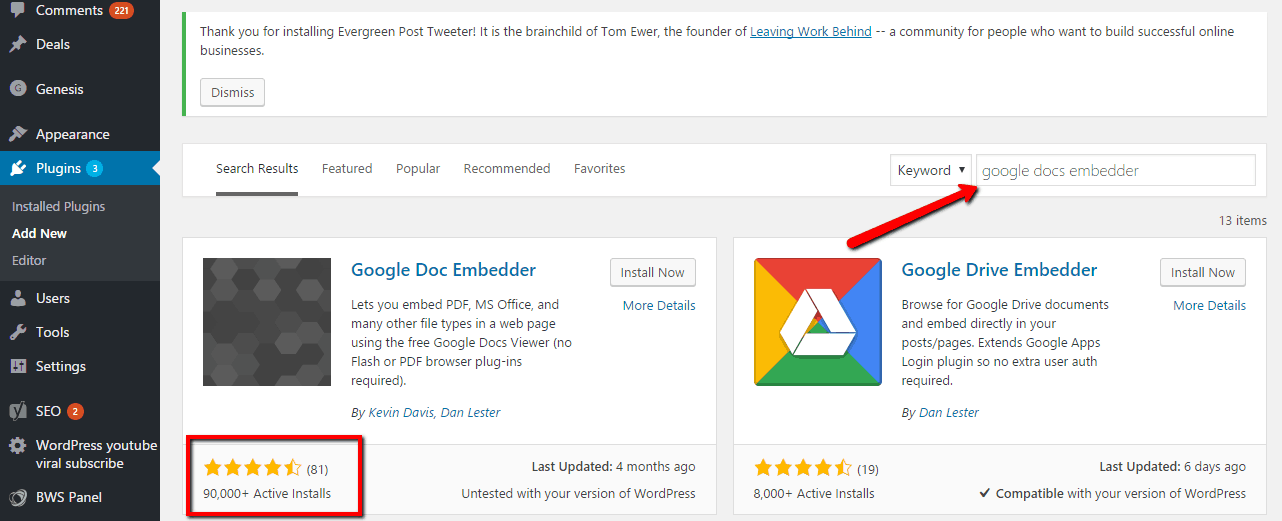 Go to Pages and select the page where you want to add the document.
Next, upload the file to the same page through the Add Media option.
Click on "Insert into post".
The file will appear with the plugin's embedded shortcode:

Hit the "Update/Publish" button and view the page.
The file will now show on the page with a download option.
This is how it will look: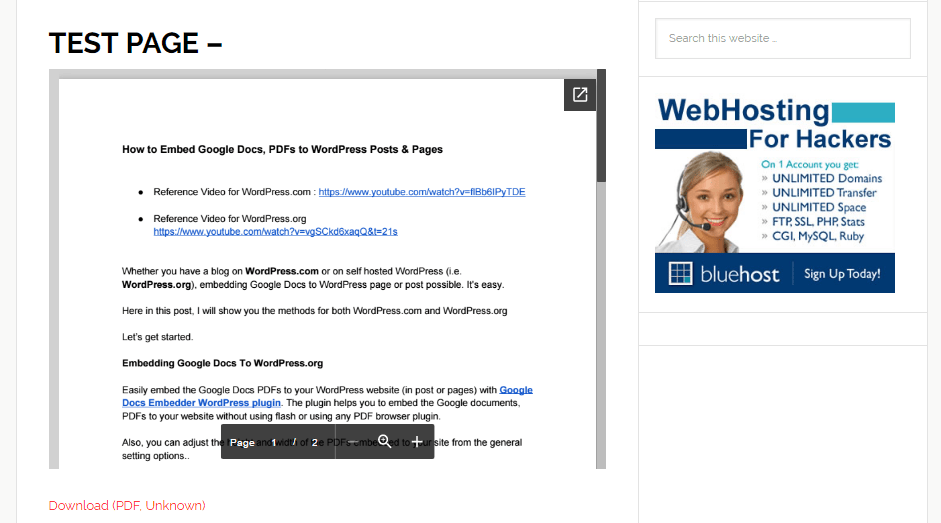 You can adjust the height and width of the embedded document from the General settings of the plugin.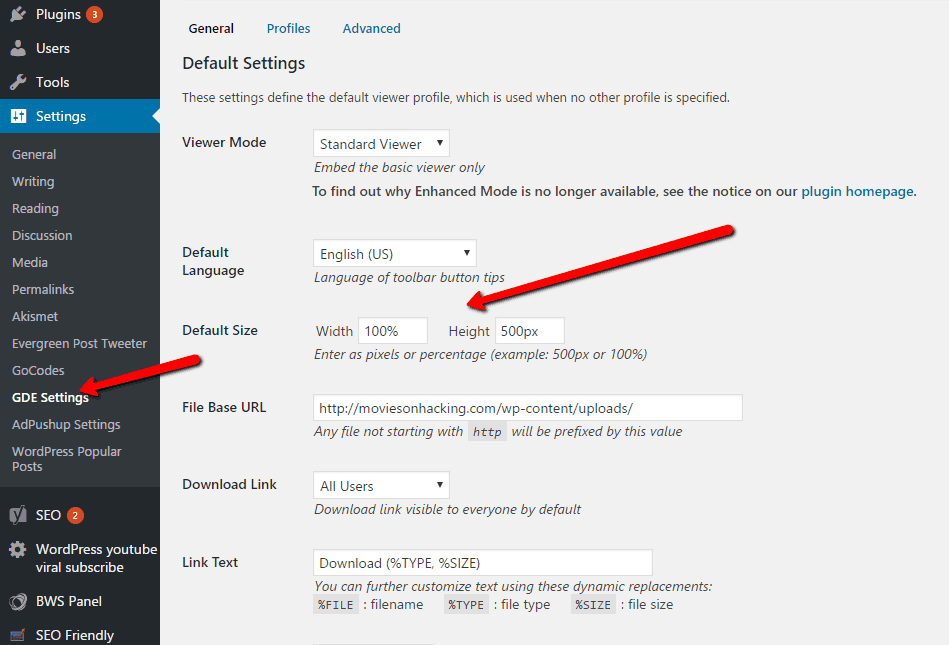 You can also prevent the download of your Google Docs file from your website by using the plugin's profile options.
To do that, just head over to the Profiles tab and change it from there.
You can change the setting under the Parent dropdown from "default" to "max-doc-security". This will prevent downloads.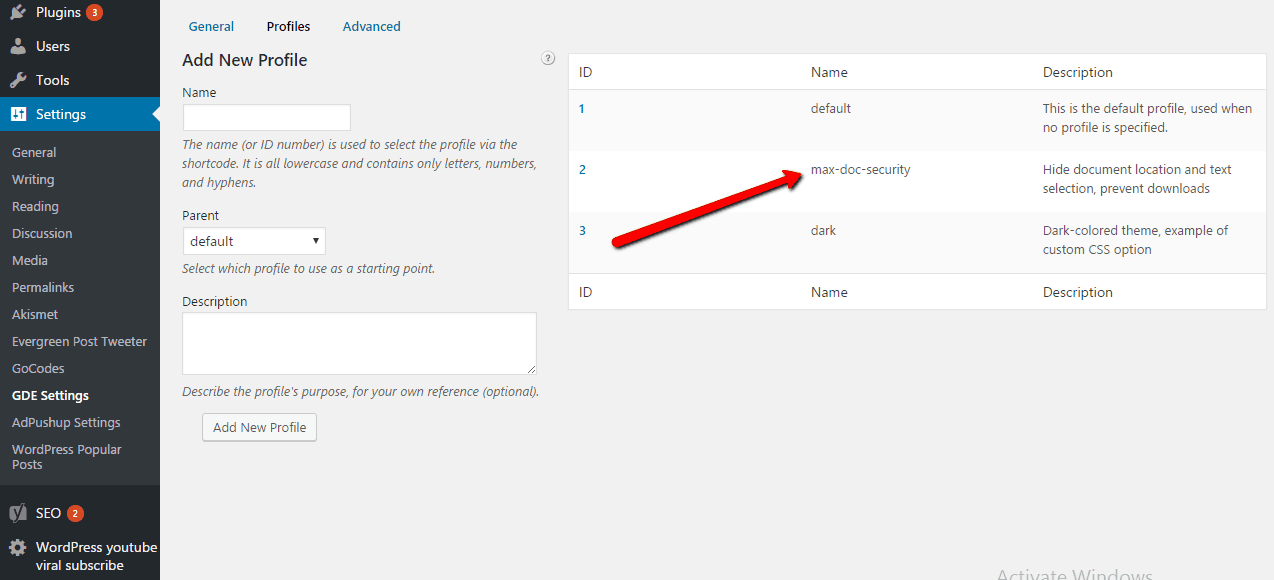 The Advanced options include the 'insert shortcode' option, media file support, and error handling, which are turned on by default.
There is also an option for Event Tracking. To use this, you need to have a Google Analytics code installed on your website.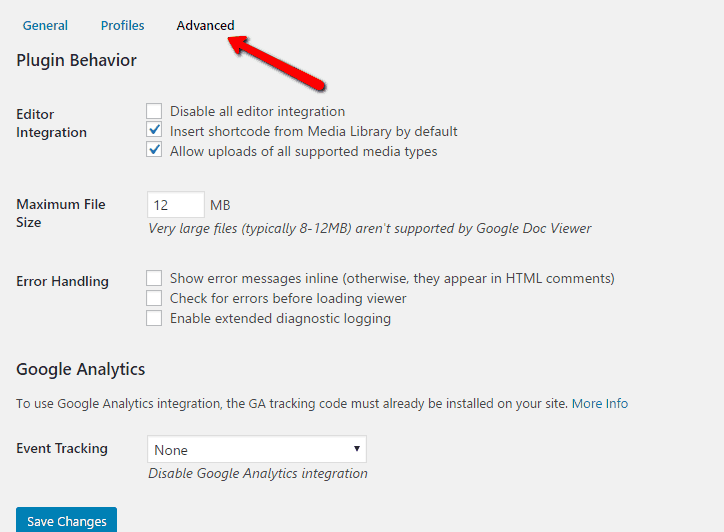 The Google Doc Embedder generates the shortcode which gets embedded with your PDF file link when you upload it. This is how the plugin helps you to show a Google Doc file on your website page.
NOTE: If you add the file without the plugin being installed, then it will only add a link to the page.
It will look like this:

In this case, the user would have to take an extra step of clicking the link to access the PDF file. But with the plugin, we can embed that PDF file onto our WordPress website.
So there you go. Pretty simple, isn't it?
Embedding Google Docs to WordPress.com
Here are the steps:
Go to your Google Drive.
Pick your document.
Go to File.
Click "Publish to the web".
Click on "Embed" and hit "Publish".
Click "OK" in the dialogue box.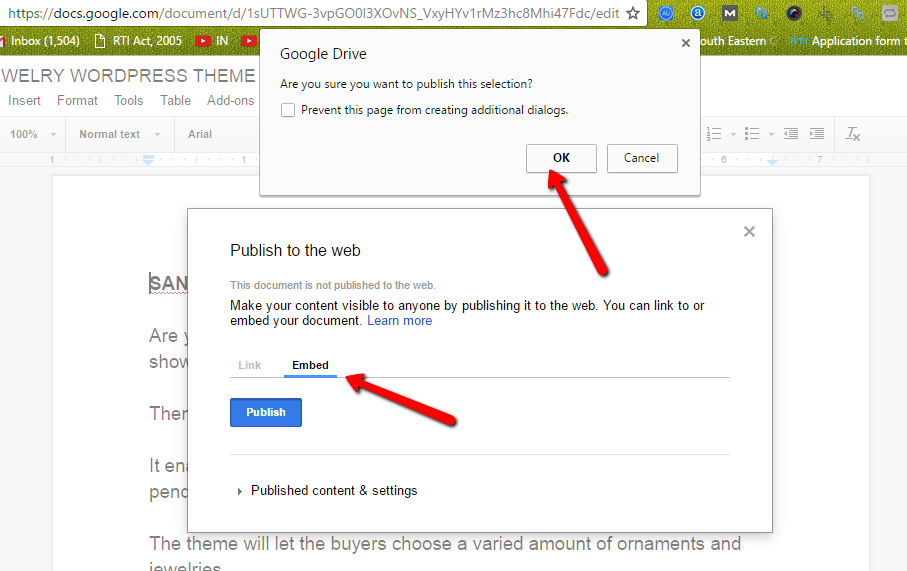 Click on the embed code and copy it.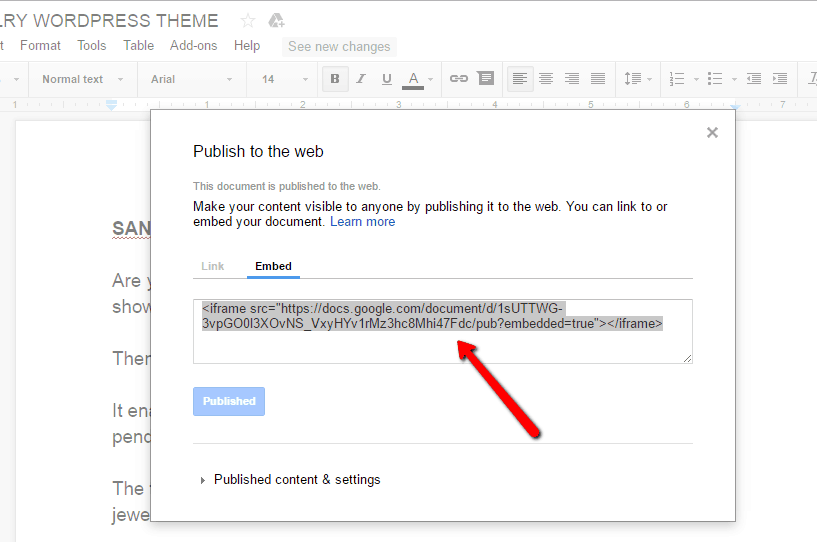 Go to WordPress.com and sign into your blog.
Click on "Pages".
Select the page you want to add your Google Doc.
Go to the HTML option.
Paste the embed code and hit "Publish".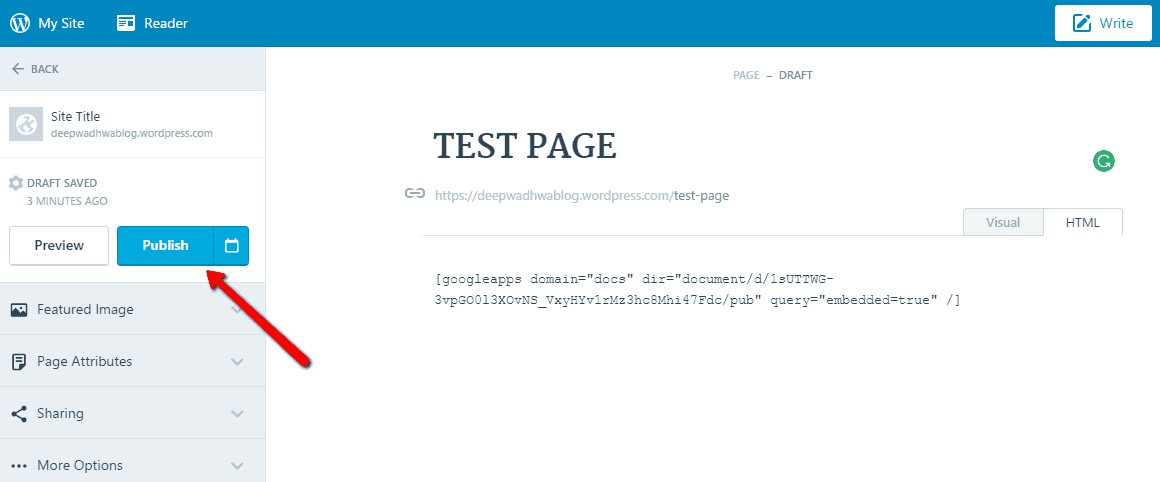 Now when you view your page, you will see the Google Doc there.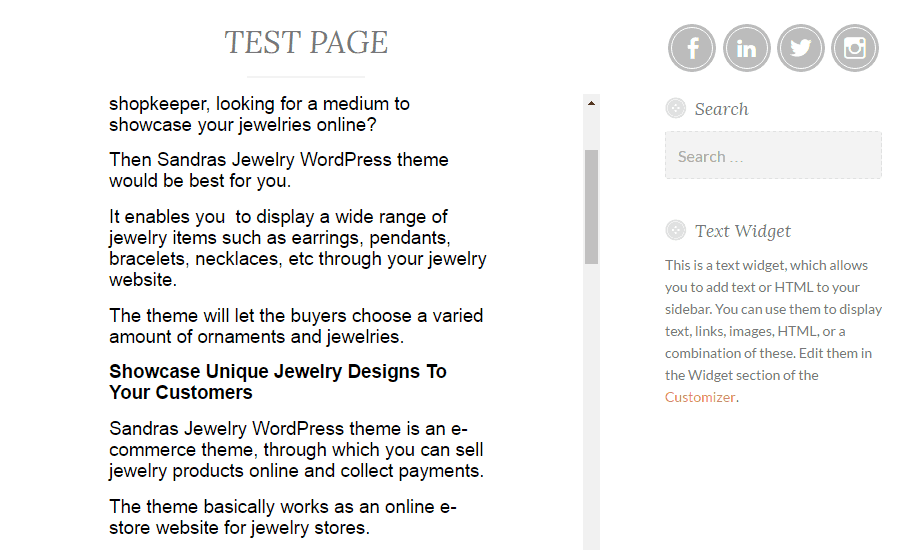 And there it is!
Embedding A Google Docs File On Your WordPress Site
When I tried doing it both with WordPress.org and WordPress.com, I had no problems. I hope it will go smoothly for you, too.
Do try and embed a Google Docs file on your WP site and let me know how it goes. And if you have any questions, feel free to ask in the comments!
Like this post? Don't forget to share it!
Here are more cool WordPress plugins that you should know about: