Internet is full of Free WordPress themes, but for the security of your blog I will never recommend to download free themes from random places. There are many quality sites which offers free themes for WordPress blogs, that you can install and customize according to your need. Many Premium WordPress theme club offers high-quality WordPress theme for free to promote their premium product. Though, with free themes you lose out the support feature, and you might have to settle down for lower features. But, again at a price tag of $0, we have very less to complain.
Here I'm listing few free themes for WordPress blogs, that are not only compatible with latest version of WordPress, but you can expect update and support over time. Though, a word of warning : Never download WordPress themes which have encrypted footers or have lots of links in footer, they have hamper your blog ranking. Most of the themes which I'm listing below are one that is downloaded lots of time and quite popular in WordPress community. You should also check out official WordPress theme repo for some quality themes.
 A Collection of Free WordPress themes:
Twenty Twelve: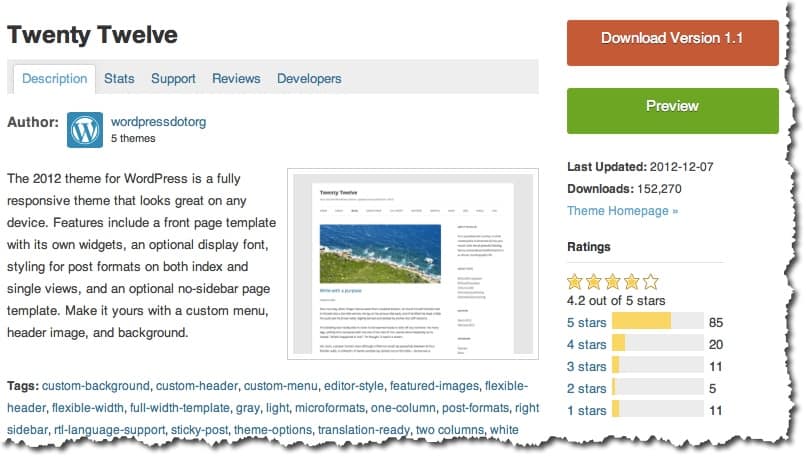 Twenty twelve is one of the most downloaded and popular free themes. This theme comes with WordPress installation and developed by team behind WordPress.org. It's compatible with WordPress 3.4.1+ and offers many features like custom template, three footer area and widgetized. You can find several tutorial on Internet to customize 2011 WordPress theme.  You can download it from official WordPress repo here.
 Canyon: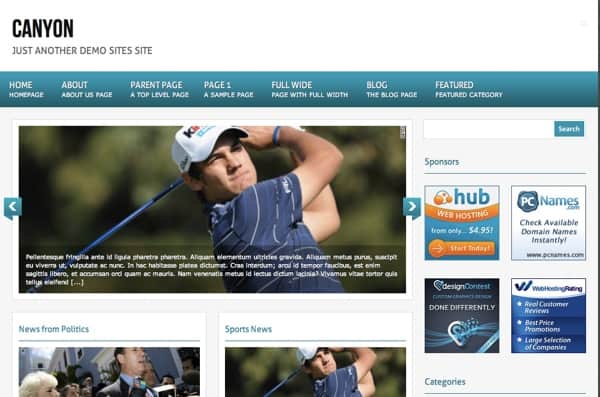 Canyon is a beautiful free WordPress theme which is very neat and clean in interface and you can show case lots of content on homepage. A perfect theme for tech and news blogs. This theme comes with theme option panel and you can get it in different colors.You can download canyon theme from here.
 Responsive WordPress theme:
As name suggests, this a free responsive theme and available for download in WordPress theme repo here.
Article in progress….