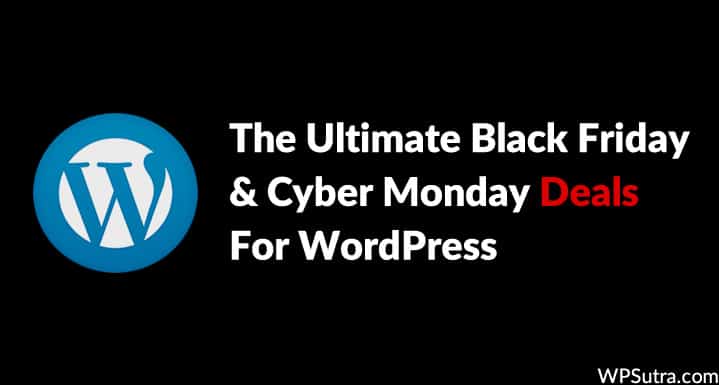 Who doesn't like buying cheap, yet quality things?
I guess you answered "nobody", right? Cool.
You're a blogger and perhaps you're just starting out. You've already heard how important it is to spend money on your blog if you're truly serious about it.
You've also heard of many people who lost their precious work to some bloody hacker because they're using a cheap, unsecured host.
I bet you've also been told that you should invest in the tools that will help you to automate the running of your business so you can make more money.
You've heard this, you've heard that, bla bla bla bla………
You know you need all these things, but the problem is that, as a beginner with a meager budget, you can't afford them.
You can't even pay for a premium theme to beautify your site, not to mention investing in automation tools.
This is the same problem that newbies and intermediate bloggers often battle with that tends to hinder their growth. But is there a solution?
INTRODUCING: 2022 Black Friday and Cyber Monday Deals for WordPress
These deals come once per year, and if you've wanted to invest in the tools that will make your blogging business a breeze, now is the time.
In this post, I will unveil the best Black Friday and Cyber Monday deals for WordPress that will turn your blogging business around. These deals will not last long, so I advise you to grab them now.
In this list, we have:
Without further ado, let me take you to the main business of the day.
Company
Discounts
Valid until
Coupon
View

Web Hosting Deals

$2.65/mo
26th Nov
Discount Link
65% Off
26th Nov
Discount Link
75% Off
27th Nov
Discount Link

WordPress Plugin Deals

35% Off
27th Nov
BF2018
30% Off
30th Nov
BF2018
25% Off
30th Nov
BFCM2018
30% Off
30th Nov
BFCM2018

Popular WordPres Tools

$1 for 60 days
25th Nov
Discount Link
First month free of charge
26th Nov
Discount Link
50% Off
29th Nov
BlackFriday18

WordPress Theme deals

25% Off
28th Nov
Discount Link
$19 Off
28th Nov
19USDFORALL
60% Off
30th Nov
Discount Link
WordPress Hosting Deals
1. Bluehost Hosting Black Friday Deals: (Recommended)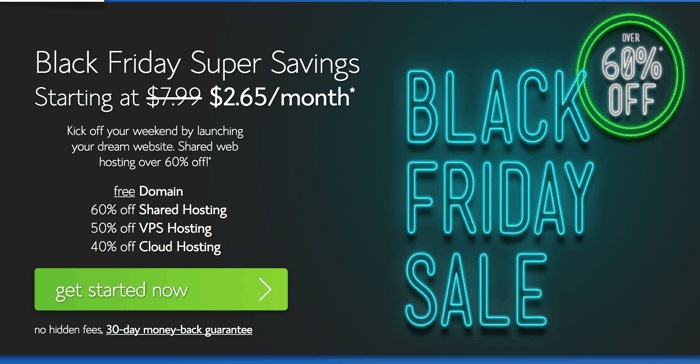 Bluehost has always been a favorite among internet marketers. It is one of the oldest web hosting companies on the market and has grown to be the go-to name when it comes to quality web hosts.
In case you don't know, most of my sites are hosted on Bluehost, and I've never regretted using them. If I'm to do it all over again, I will still go for Bluehost.
Luckily enough, Bluehost is giving away a killer discount on Black Friday and Cyber Monday. If you are thinking of buying a quality and reliable web host for yourself, this is the right time to grab a great deal on hosting.
Bluehost is offering their starter package at a dirt cheap price of $2.65/month with a free domain when you purchase hosting for 36 months (3 years).
DETAILS:
2. HostGator BlackFriday Discount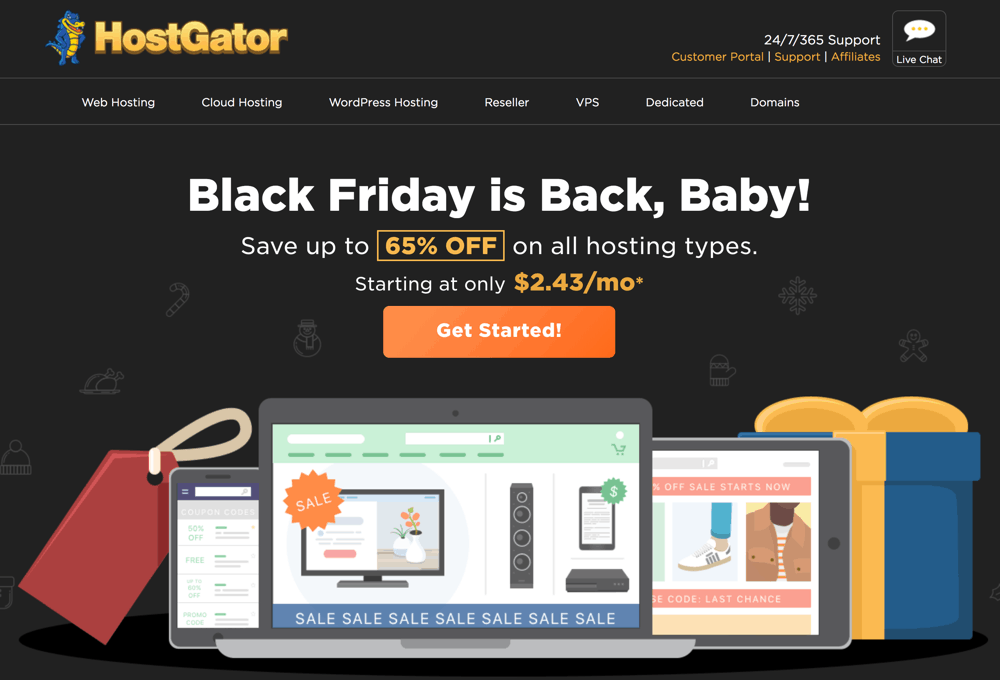 HostGator is a standard in the hosting industry. Like Bluehost, it's also one of the oldest in the market, and has bagged lots of merits and a really good reputation over the years.
Bloggers often prefer going for their "Baby" hosting plan because it saves a lot of money in the long run. If you're on a lean budget and it has been preventing you from getting a good web host, use this opportunity now because it only comes once a year.
Even if you already have a hosting account, you can still buy this one and use for your future projects. It's well worth it.
DETAILS:
Note:
HostGator's coupon will change every day from Black Friday until Cyber Monday. However, you don't need to enter the coupon if you use the links provided here, as their system will add the coupon & apply the discount for you automatically.
Below are the coupons for your reference:
2022BF
3. SiteGround Hosting Discount

SiteGround hosting is one of the best web hosting companies out there. I've never seen another hosting company whose customer service is as good, active, and responsive as theirs; their customer service is simply unmatched.
Secondly, they have one of the fastest loading servers (with 99.9% uptime). Believe me, if you're not hosting any of your sites with them yet, use this opportunity and check them out. I'm sure you will fall in love.
SiteGround is offering a whopping 70% discount on all of their shared hosting plans this Black Friday.
Get yourself a super quality hosting plan from SiteGround now that it's affordable.
Note: The discount only applies to one year of hosting. You will start paying the normal renewal fee after the first year.
DETAILS:
WordPress Plugin Deals
1. OptinMonster Plugin Discount

This is a must-have plugin for email marketers and list builders. It will make your list building efforts more creative and less stressful.
A lot of bloggers have testified to the superb features of this plugin, and if you don't have it yet, then you're missing out on a lot.
If you have services like MailChimp, AWeber, GetResponse, or any other email marketing company, you should buy OptinMonster right now. It has many features that will transform you into a list building wizard.
DETAILS:
2. ThirstyAffiliates Plugin Discount

This is a plugin meant for affiliate markers. If you're into affiliate marketing of any kind and you don't have ThirstyAffiliates, you're making a huge mistake.
ThirstyAffiliates also has a free plan, but it's not that great.
The big savings are on the add-ons; therefore, you need to hurry and grab this wonderful plugin now if you're serious about making your affiliate marketing business a success in 2023.
I'm already using it and can testify to its awesomeness.
DETAILS:
3. AffiliateWP Plugin Discount

Just like ThirstyAffiliates, AffiliateWP is also a very handy premium plugin for serious affiliate marketers.
To celebrate Black Friday and Cyber Monday, the company is offering you the opportunity to get a killer 25% discount on all new purchases of AffiliateWP (across all license levels), all license renewals, and all upgrades!
DETAILS:

Easy Digital Downloads is an all-in-one eCommerce solution for WordPress. Right out of the box, it is prepared to power your online business without depending on other tools.
For the Black Friday and Cyber Monday celebration, you can get a killer 25% discount on all Easy Digital Download extensions (across all license levels), including a 25% discount on all license renewals, and all license upgrades.
DETAILS:
5. LinkWhisper plugin – $30 off
LinkWhisper is an SEO internal link-building plugin for WordPress which offers many more features. You can watch the below video to learn more about Link whisper.
WordPress Themes Deals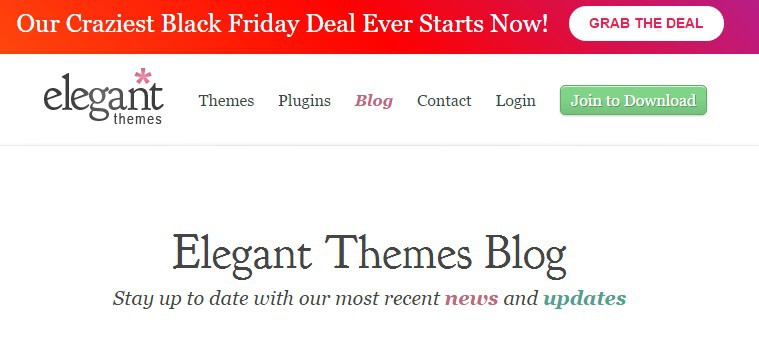 One of the leading WordPress theme companies on the internet, ElegantThemes, is currently giving away a whopping 25% discount on all of their membership plans. This is their biggest Black Friday deal ever.
For their Black Friday and Cyber Monday celebration, you can access all ElegantThemes WordPress themes (including the Divi theme) for only $52.
However, I'd advise you to buy their Developer package, which will cost only $67 & also gives you access to all of their awesome plugins like Bloom, Page Builder, and Monarch.
DETAILS:

MyThemeShop's themes are one of the most popular and widely used on the internet. Think of any type of site you want to build, and MyThemeShop absolutely has got you covered.
MyThemeShop is giving you a chance to get any of their top notch premium themes for only $19 this Black Friday and Cyber Monday.
DETAILS:
Other Popular WordPress Tools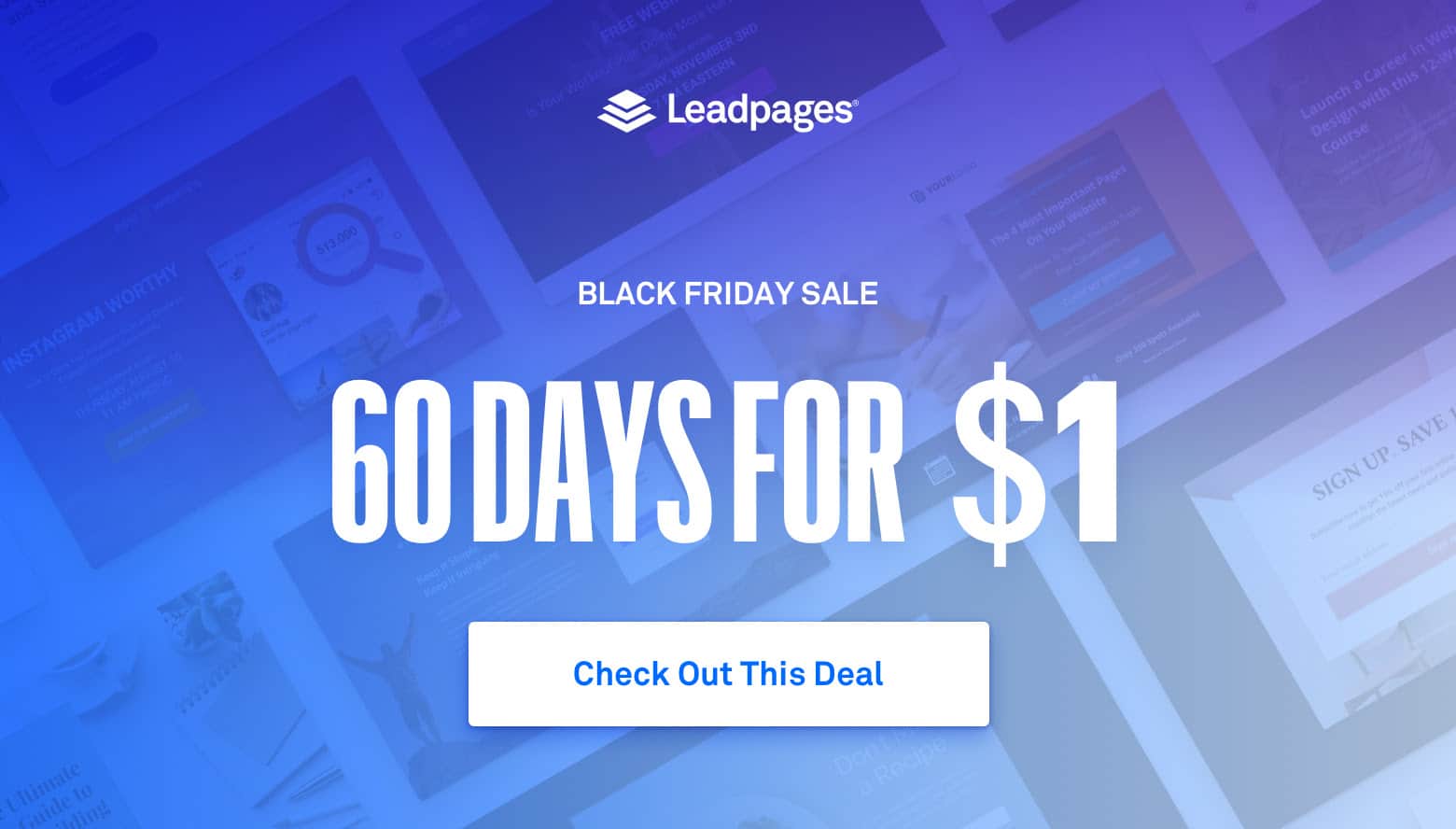 Leadpages is one of the most popular WordPress tools out there and is used by some of the most well-established brands on the internet. Now, if you're looking for a deal on a cutting-edge email marketing tool this Black Friday, try Leadpages.
It is a very popular email marketing solution for bloggers. Their web app lets you generate mobile responsive landing pages which work with all popular platforms (including WordPress). They also have a WordPress plugin that will help you to easily integrate all of your landing pages to WordPress.
I've been using Leadpages for years now, and I'll tell you, they're worth way more than the price of the Pro Annual Account.
Don't waste this opportunity; grab it now before it's over.
DETAILS: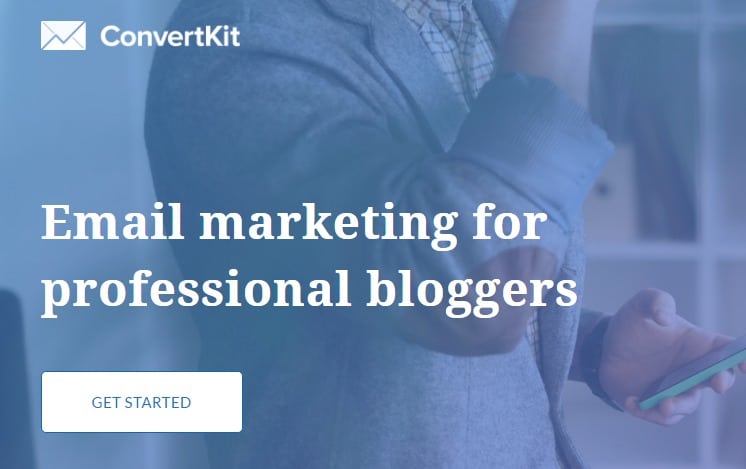 It's no surprise that I love ConvertKit.
I've used lots of email marketing services before, but none can compare to ConvertKit.
You may know that ConvertKit doesn't offer a free account. So if you've been longing to try ConvertKit , now is the time.
DETAILS: