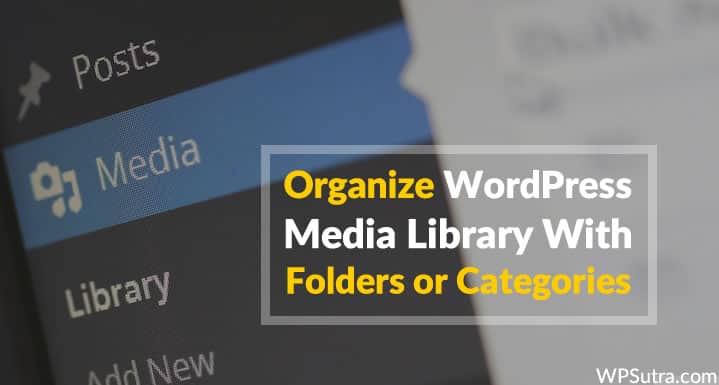 The WordPress media library is where you upload and store all of your images and media files. And as far as uploading and inserting images into posts goes, the WordPress media library is perfectly functional. But here's the problem with the default WordPress media library:
After you upload a file, it becomes almost impossible to find that file again if you ever need it at a later date. So you end up wasting time either by tracking it down or by uploading a new version.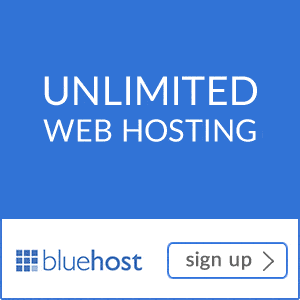 Thankfully, there's a better way…
The two WordPress plugins I'm going to guide you through today will help you organize your media library so you can find files whenever you need them. This is great for anyone who finds themselves regularly reusing the same images over and over.
The Two Methods of Organizing Your Media Library
There are two main methods of organizing your WordPress media library. Each has advantages over the other. They are:
WordPress media folders – this method creates folders inside your media library. Essentially, your media library will function exactly the same as the folders on Windows or Mac OS. For this reason, this method is easy for every user to understand.
Taxonomies – this method applies categories/tags to your media files so that you can filter by categories at a later date. It's not as visual as media folders, but it's more powerful in my opinion.
Here's how to organize your WordPress media library via both methods using free plugins.
Add Folders With Media Library Plus
Media Library Plus is a free plugin which adds a separate media library with folders to WordPress.
There is one warning – to be able to directly insert images into your posts/pages, you need to purchase the pro version. The free version is good for organizing, but you'll need to manually copy the image URL to insert images into your posts.
With that out of the way, let's look at the plugin. First, install and activate Media Library Plus.
Once activated, you should see a new "Media Library +" tab. This tab includes all of the files inside your regular media library.
But it adds a new element:
Folders!
By default, your media files are organized into folders by the year and month in which they were uploaded: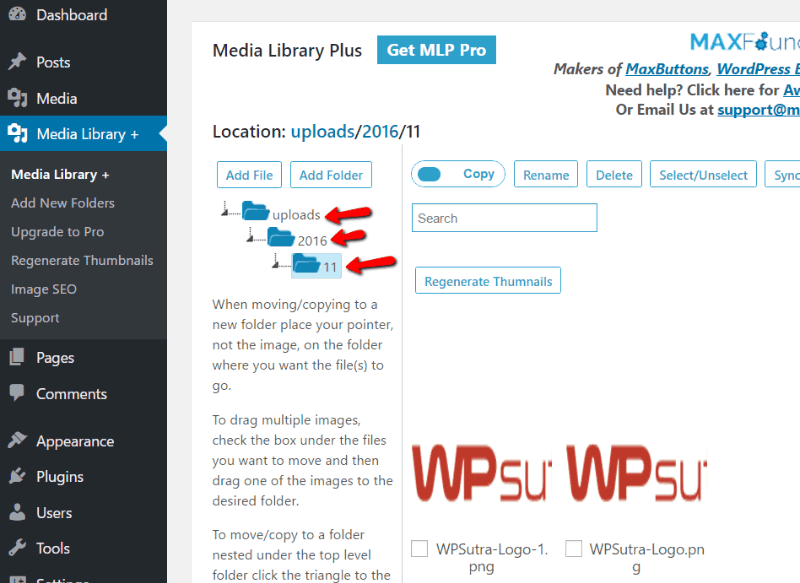 To change that organization, you first need to create a new folder: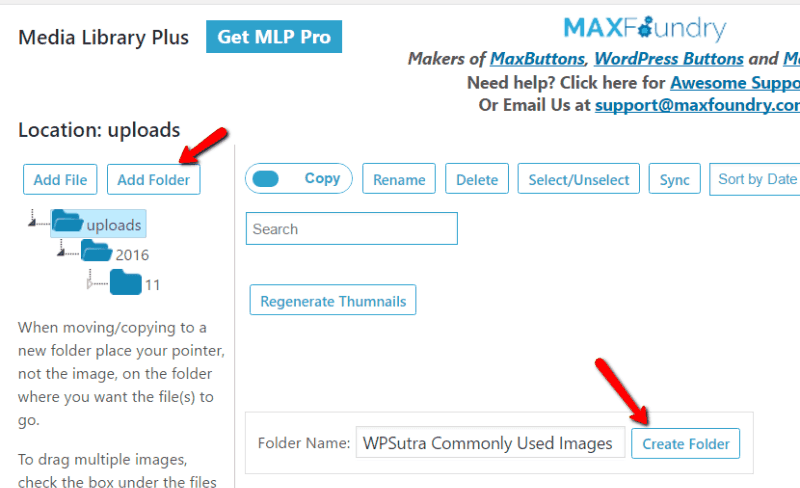 Then, to move files between folders, all you need to do is drag the file where you want it. It functions exactly like your operating system's folders: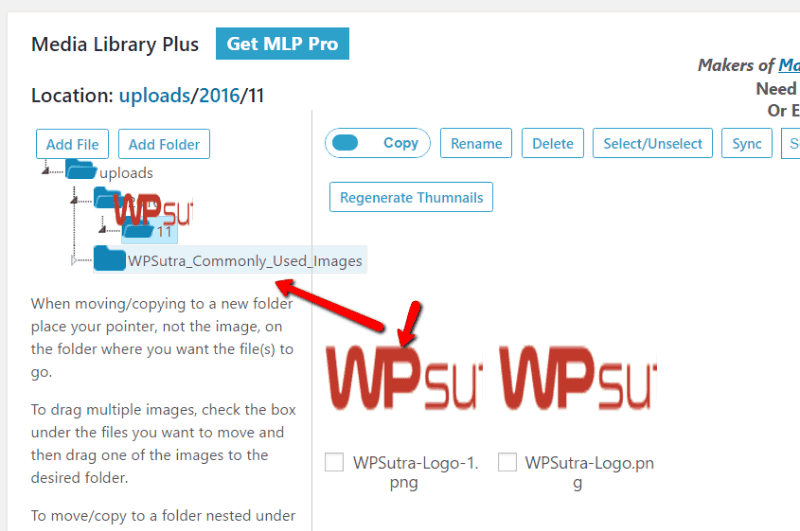 There's just one difference. By default, the plugin copies the image to the new folder instead of moving it completely. This is because moving images between folders will change their URL.
You can move images by changing the "Copy" button to "Move", but you need to be very careful when doing this to make sure you don't move an image that's already inserted into posts:

That's all there is to it!
You can create as many folders as you need and fill them with images.
My absolute favorite WordPress media folder plugin is WP Media Folder. But because it costs $35, beginner bloggers may not be able to justify spending that much on organizing their media library. If you can afford it, I recommend giving it a look.
Add Categories/Tags with Enhanced Media Library
Enhanced Media Library takes a different approach to organizing your media library. Instead of adding visual folders, it lets you add categories and subcategories to your images (just like you do your posts!).
Once you install and activate the plugin, you'll see a new "Media Categories" tab under your media library: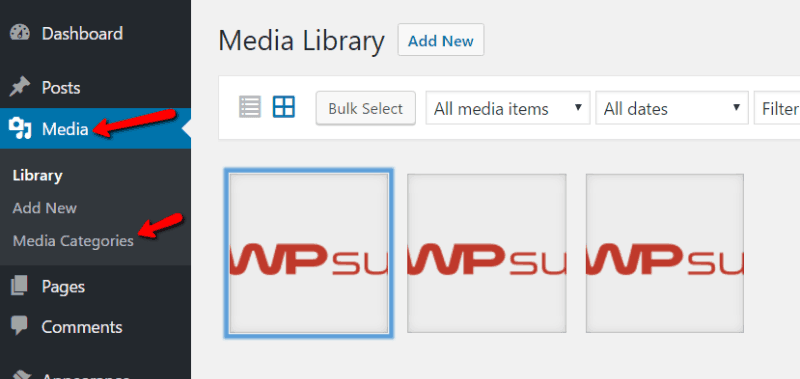 Click that button to get started and add some media categories.
For example, you could add a "Frequently Used" category for images you need to regularly reuse: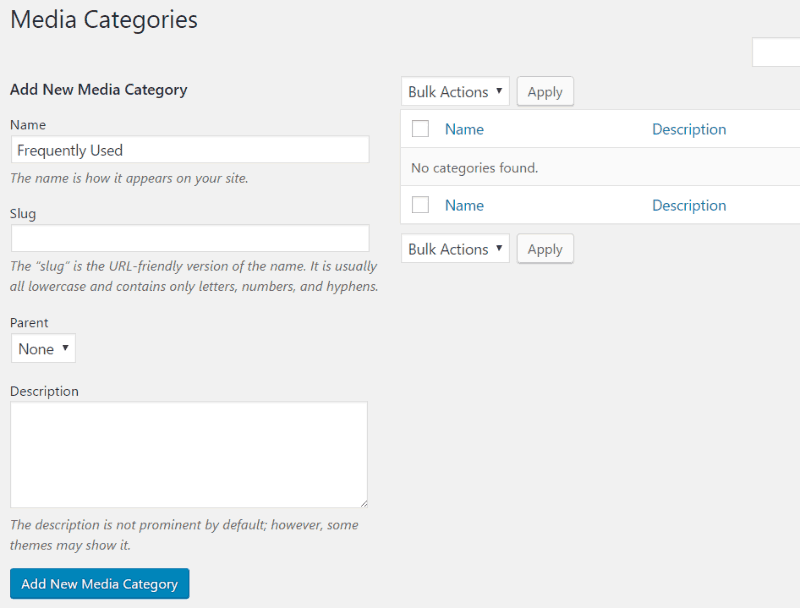 Now, whenever you view or upload an image, you'll have the option to add it to a category: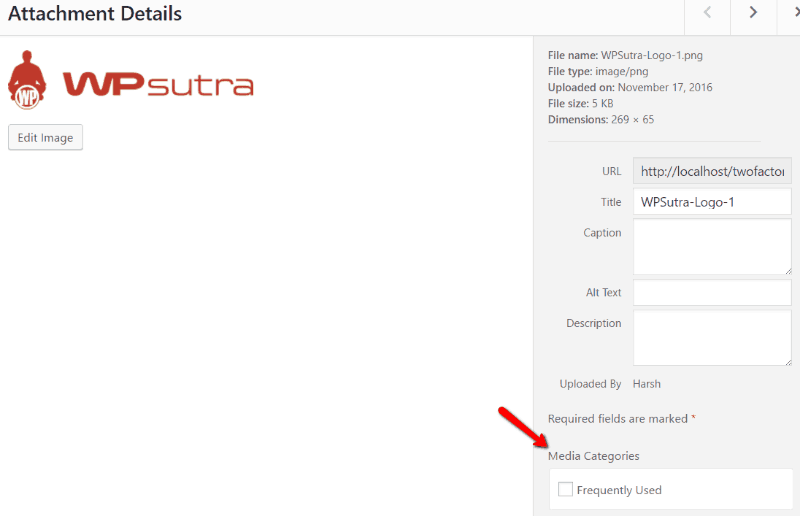 Once you tag an image as part of a category, you can quickly find it by using the new category filter at the top of your media library page: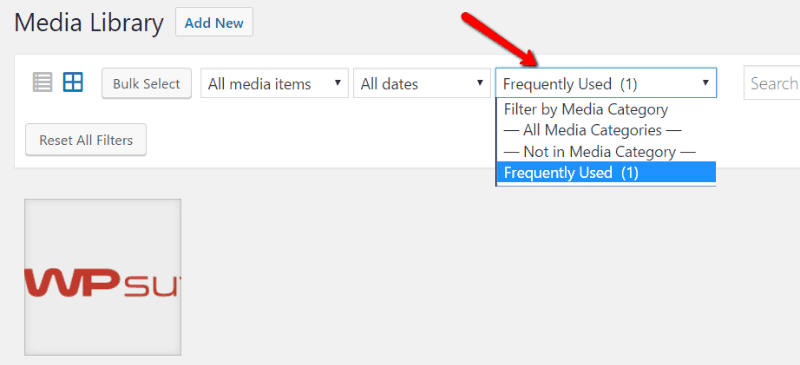 If you want to get even more specific with your categories, you can nest categories inside of one another by setting a "Parent" category: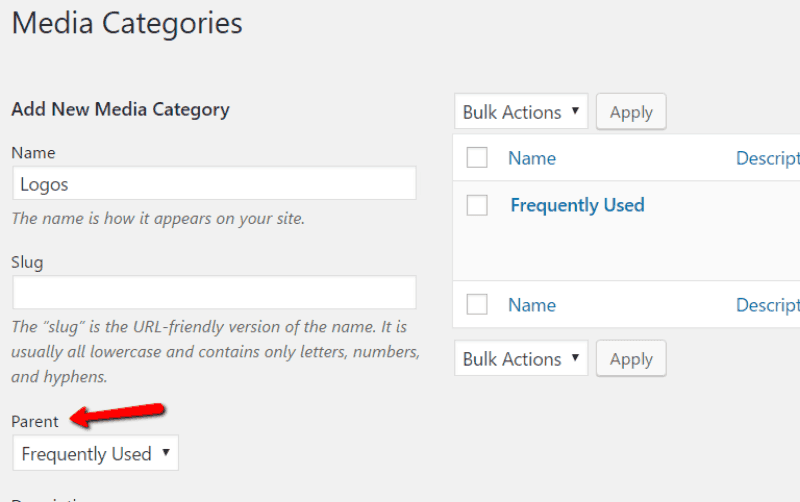 As I said, this method isn't visual. But I think it is a more powerful way of organizing your media library. It's much quicker to choose a specific category from a dropdown than it is to browse through lots of different folders.
Final Thoughts
Most people like the idea of using folders to organize their media library because it's so familiar to anyone who's ever used a computer. And while folders are still certainly an improvement over the default WordPress media library, I think you should consider the category method first.
In the long-term, categories will let you find your old images quicker.
If you have any questions about organizing your media library, let me know in the comments.
And don't forget to share this post!
Here are hand-picked articles that you should check out: