Note: This service is no more available in 2016. I would suggest you to use Google apps to create your professional domain email address.
If you are a blogger/webmaster or even an individual who holds a domain name, it's a good idea to use domain specific Email address for communication. That means, instead of using @gmail.com, @outlook.com, use something like [email protected], [email protected], and so on. Earlier, I used to use Google apps for configuring domain specific Email address, but in recent changes, Google made it paid, and I had to shift to other services which are free. Usually, when you buy a domain or a hosting, most of domain registrar offers free Email addresses, but I prefer to use a service which is easy to use and configure. Therefore, I would recommend using Outlook.com to configure your domain specific Email addresses, as it's free and offers great features.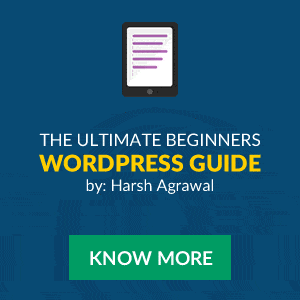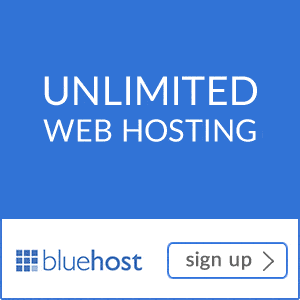 In this tutorial, I'm using a domain bought from Bluehost, but the same method will be applied on any domain registrar. So, let's get on with the tutorial, and if you are stuck anywhere in between, feel free to drop a comment with your query.
Configuring Outlook.com for Domain Specific Email Address:
First login to domains.live.com with your hotmail/outlook Email address. If you have never created one outlook ID, it's a good time to get one, as you can use the same for managing Bing Webmaster tool for your domains. So once, you are logged into domain manager of outlook, add your domain name, and select the option which says, set up outlook.com for my domain.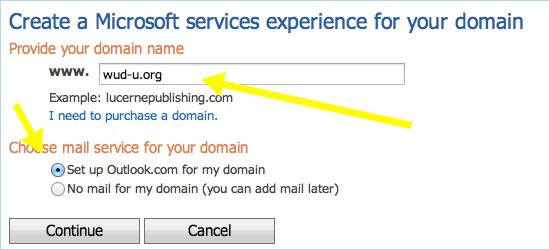 Click on continue and on the next page, enter the captcha the confirm the details, and click on "I accept".
Setting up Outlook Domain MX record for Ownership and Email routing:
Here is the little technical part, as you need to add MX record to verify domain ownership, and let outlook.com manage your domain emails. We also need to add a TXT record, to configure " sender ID configuration", this will ensure that our Email from domain Email address doesn't land in spam/junk folder of receiver.
Login to your Bluehost dashboard:
Under Mail > Click on MX records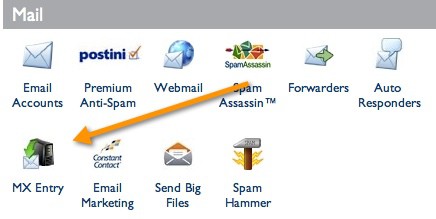 On the DNS Zone editor page, next to MX record, click on More, and select Automatic detect configuration, and click on change.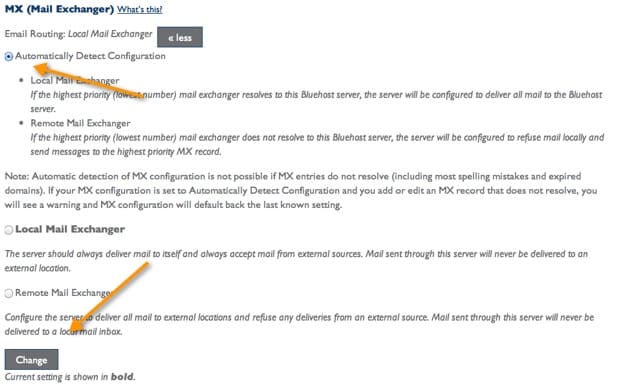 Now go back to outlook.com page, where MX records are given, which we need to add on Bluehost servers. And copy details as shown in the screenshot, make sure you add details which are given for your domain on outlook.com.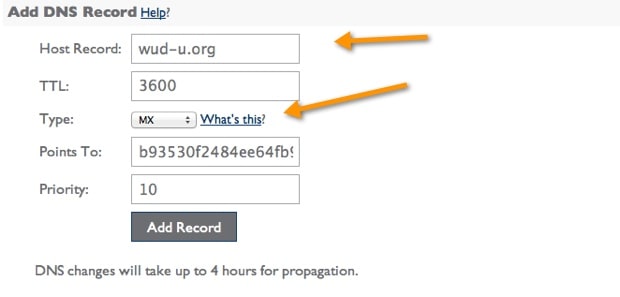 Update: Just a minor change, TTL should be 14400 instead of 3600, as Bluehost.com doesn't allow 1 hr TTL. Now, click on add record.
Adding TXT record for server trust:
As I mentioned above, you need to add a TXT record to ensure your Email doesn't land on receiver spam folder. You need to add following details under Bluehost Zone editor page.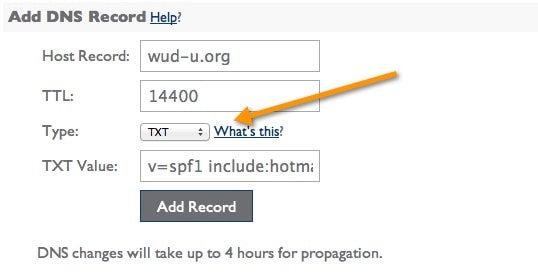 Click on Add record, and you are all set with adding MX record and TXT record for your professional Email address on outlook.com. And, there is just one setting that you need to ensure you receive Emails, and that is: delete the default mail entry under A (Host) record:
Now, it will take few hours to propagate the details which we have added, so grab your coffee, and watch a nice movie to kill your time.
Adding New users to Domain specific Outlook Emails:
Now, once MX record propogation is done, all you need to do is created professional Email address for you or for your team-members. Head over to this link and you will see your domain listed here. Click on domain, for which you want to create domain specific Email ID's.
Click on Members account > Click on add and start creating members ID. By default outlook.com allows 50 free Email addresses for your domain, but if you need more, you can use this link to contact support and ask for more Email addresses. Best part is, it's absolutely free. 🙂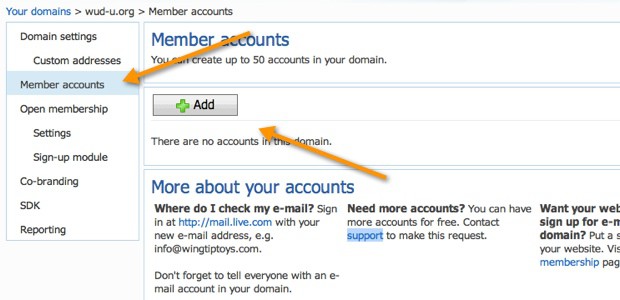 When you creating new Email ID's, in the account name add "admin" "your name". you don't need to add @domain.com. So, once you have created all the ID's and passwords, simply ask your users to login to http://mail.live.com/ and start using their professional Email addresses.
There are few other things you could do from above page, like brand your Email dashboard, and also use something like mail.domain.com to access Emails. For now, above tutorial will ensure your professional Email address is set up without any cost. If you still have any query, feel free to ask via comments.
Subscribe for more videos